FEATURED PROJECTS
See some of our past project examples. We are specialized in B2B online Branding and webdesign, with a focus on the telecom and power sectors.
VALUE PROPOSITION
A different approach to traditional web design studios. At Leadvisually, we focus on business targets, client competitors and sales verticals in order to offer best in business ROI via online Branding & Marketing solutions.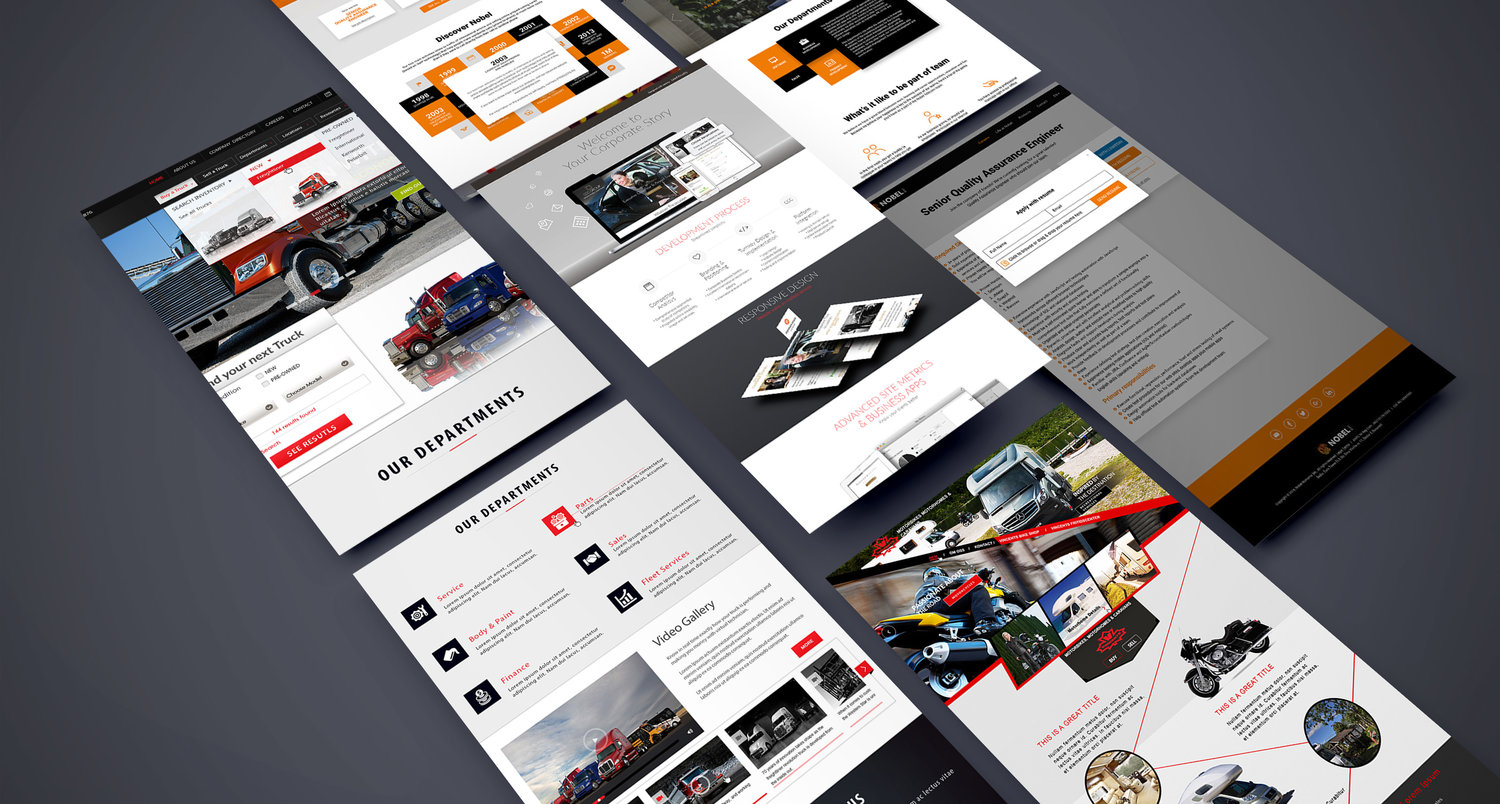 Nobel Telecom
HR Platform | Applicant DB | Custom CMS | Responsive


Scope
The customer requested an "Employer Branding website". Their aim was to promote the image of a dynamic working environment, and provide a platform for job applications. Main goal was to increase talent retention and attract the best candidates for the open positions
About the client
Nobel is a multinational telecom company, one of the global telecommunications market leaders, with diverse operations across the globe.
Live website: www.nobel.ro
Features & functionality
Custom easily editable CMS
Apply with CV / Apply with linkedin
Newsletter subsriptions
HR applicant database with CV selection filters
Mobile responsive implementation
Dynamic loading scroll effects
Video and parallax headers
SEO optimisation

"BECAUSE ANSWERS EXIST ONLY TO QUESTIONS"
LANDING PAGE - CASE STUDY / BUSINESS REFERRAL
Increase brand credibility
Educate customers
Increase product awareness
Drive customer engagement
Showcase on-site applications
Scope
To create a credible to the point case study presentation/referral landing page, to be used as a tool by the sales department.
Execution
End user interview
Photo session
Project analysis
Proposed images
About the client
Ingreen Networks - headquartered in the United Kingdom, provides sustainable end to end engineering solutions to the Global Telecom & ICT Markets
www.ingreenweb.com
Advanced Transport Solutions
(ATS)
CMS Platform | Responsive design & Implementation
Scope
Design and implement a quick one pager presentation website, to showcase the general logistics services offered by the customer. Flexibility and easily editable content was a key requirement.
About the client
ATS has quickly evolved into one of the leaders in railway transport and logistics services from South East Europe.
Live website: www.ro-ats.com
Features & functionality
Editable CMS platform

Simple contact form

Mobile responsive implementation

Video background landing page

Parallax headers
European Nature Trust
DESIGN FOR PRINT
PHOTOREALISTIC - BUS WRAP
Scope
To create a visually engaging Bus Wrap with emphasis on wildlife, and wild dramatic scenery.
Execution
Photo session

Constructed Bus Mock-up

Proposed images

Advanced Multi-Layer Masking, Merge, Blending, Light manipulation

Delivered: Print ready design 1:10 - 72 dpi
About the client
The European Nature Fund - supports and funds well-founded initiatives, which preserve and restore the last remaining wild habitats in Europe.
www.theeuropeannaturetrust.com
DEVELOPMENT INSIGHTS
10 different images were used to create an original, yet believable dramatic setting.